Introduction
Are you ready for an underwater adventure of a lifetime? If you're an avid diver, the idea of exploring the ocean's depths must excite you. And what better way to do it than on an Aggressor Liveaboard in 2024? In this article, we will take you on an extensive journey through the top 4 Aggressor Liveaboards that are set to make waves in the coming year. From exploring vibrant coral reefs to encountering fascinating marine life, these liveaboards offer a remarkable experience for diving enthusiasts.
Table of Contents
Aggressor Liveaboards: The Ultimate Underwater Experience
Before we delve into the specifics of the best 4 Aggressor Liveaboards, let's talk about what makes these liveaboards so special. Aggressor Liveaboards are known for providing the ultimate underwater experience. They are more than just boats; they are floating dive resorts designed to cater to divers' every need. With spacious cabins, delectable cuisine, and a crew dedicated to ensuring your safety and enjoyment, Aggressor Liveaboards set the standard for liveaboard diving.
Aggressor Liveaboards have been a trusted name in the diving community for decades. The 2024 lineup promises to take this legacy to new heights. These floating dive resorts are not just a mode of transportation; they are your home and sanctuary during your underwater adventures. With Aggressor, you get to experience the ocean like never before. Whether you're a seasoned diver or a novice, these liveaboards offer something for everyone.
Aggressor Liveaboards provide you with the opportunity to explore the most remote and pristine dive sites on the planet. They take you to places that are not easily accessible by day boats, allowing you to witness marine life in its most undisturbed state. Aggressor Liveaboards have everything from colorful coral reefs to thrilling encounters with large pelagic species.
Now, let's explore the 4 best Aggressor Liveaboards in 2024, each offering a unique adventure.
The Best of 2024: Our Top 4 Picks
1. Aggressor Palau Legacy: Dive in Pristine Waters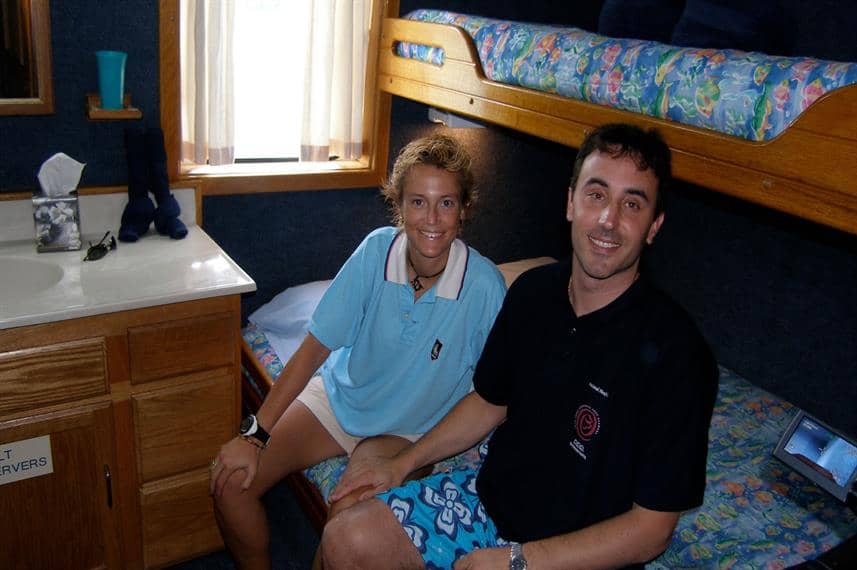 Destination: Palau
Dive Highlights: Dive into the pristine waters of Palau and witness an abundance of marine species, including manta rays, hammerhead sharks, and vibrant coral gardens.
Why Choose: Palau is a paradise for divers, and the Aggressor Palau Legacy offers you the best way to explore its underwater wonders.
Palau is a place of legends in the diving world, and the Aggressor Palau Legacy allows you to step right into those legends. Palau's waters are pristine, and its marine life is abundant and diverse. The legacy of this liveaboard lies in its commitment to delivering a diving experience that is beyond extraordinary.
The waters of Palau are known for their rich marine life, including manta rays, sharks, and turtles. One of the most thrilling aspects of diving here is the chance to encounter hammerhead sharks. The vibrant coral gardens that Palau boasts are like a work of art beneath the sea.
The Aggressor Palau Legacy offers not only excellent dive experiences but also a deep commitment to safety and environmental responsibility. The crew is well-trained and takes pride in ensuring that your dives are not only memorable but also respectful of the underwater environment.
Accommodations on the Aggressor Palau Legacy are spacious and comfortable, with all the amenities you need to relax after a day of diving. The onboard chef prepares delectable meals, and you can enjoy your dining experience with an ocean view.
Palau is a paradise for divers, and the Aggressor Palau Legacy is your golden ticket to explore this underwater wonderland.
2. Aggressor Maldives Master: A Journey to Paradise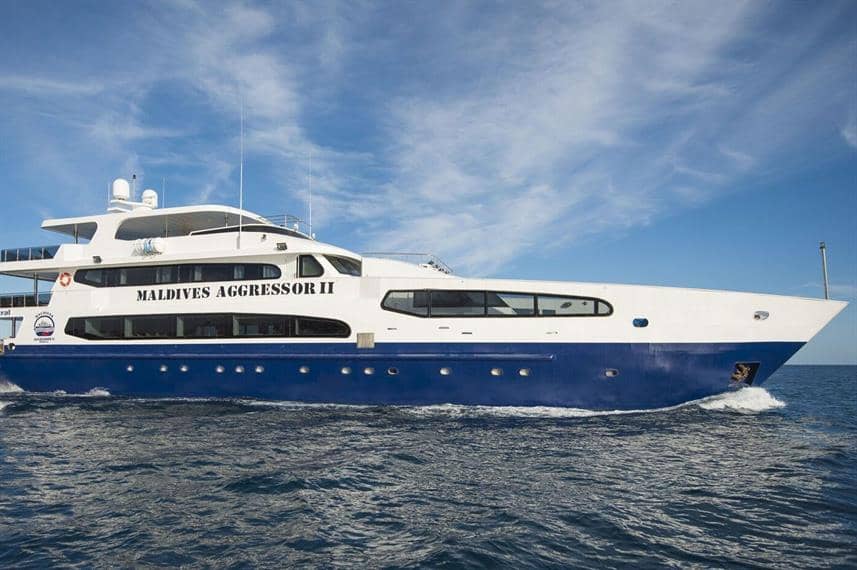 Destination: Maldives
Dive Highlights: Immerse yourself in the Maldives' crystal-clear waters and encounter whale sharks, mantas, and breathtaking underwater landscapes.
Why Choose: The Maldives Master is your ticket to a mesmerizing underwater world in one of the planet's most sought-after diving destinations.
The Maldives needs no introduction to the world of diving. It is a place of dreams, where you can immerse yourself in crystal-clear waters and swim alongside some of the ocean's most magnificent creatures. The Aggressor Maldives Master takes you on a journey to this aquatic paradise.
One of the highlights of diving in the Maldives is the opportunity to encounter whale sharks, the gentle giants of the sea. Mantas, with their graceful movements, are another common sight. The Maldives also offers breathtaking underwater landscapes, with coral reefs that are nothing short of spectacular.
The Aggressor Maldives Master is a liveaboard that combines luxury with adventure. Spacious cabins are elegantly designed, offering a comfortable and restful space for divers. The onboard chef crafts delectable meals that cater to a variety of tastes, and you can dine while enjoying stunning views of the Maldivian waters.
The Maldives Master offers a thrilling and luxurious journey into the deep blue. Whether you're an experienced diver or just beginning to explore the underwater world, this liveaboard provides an unforgettable experience.
3. Aggressor Galapagos Sky: Dive into Evolution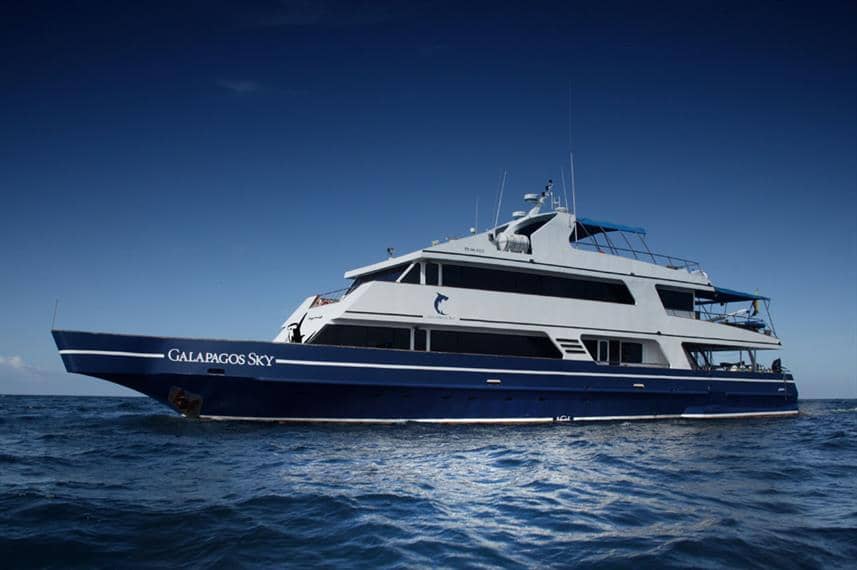 Destination: Galapagos
Dive Highlights: Discover the incredible biodiversity of the Galapagos Islands, home to marine iguanas, playful sea lions, and unique hammerhead sharks.
Why Choose: The Galapagos Sky is the ultimate choice for divers exploring Charles Darwin's "living laboratory."
The Galapagos Islands, often referred to as "Darwin's Playground," are a living testament to evolution. The Aggressor Galapagos Sky liveaboard takes you on a journey to this iconic destination, where you can observe marine iguanas, sea lions, and hammerhead sharks in their natural habitat.
The Galapagos Sky offers divers a unique opportunity to be part of a scientific and ecological marvel. The waters here are teeming with life, both above and below the surface. Marine iguanas, found nowhere else on Earth, sun themselves on rocky shores, while playful sea lions frolic in the waves.
Diving in the Galapagos is an experience like no other. The highlight for many divers is the chance to dive with schools of hammerhead sharks. These majestic creatures are a sight to behold, and encountering them in their natural habitat is awe-inspiring.
The Aggressor Galapagos Sky liveaboard is equipped with everything you need for a comfortable and adventurous journey. Spacious cabins, a dining area with ocean views, and a sun deck for relaxation all contribute to your overall experience.
The Galapagos Sky is not just a dive trip; it's a journey into the heart of evolutionary science. For divers who seek an extraordinary experience, this liveaboard is the ultimate choice.
4. Aggressor Okeanos: A Haven for Shark Lovers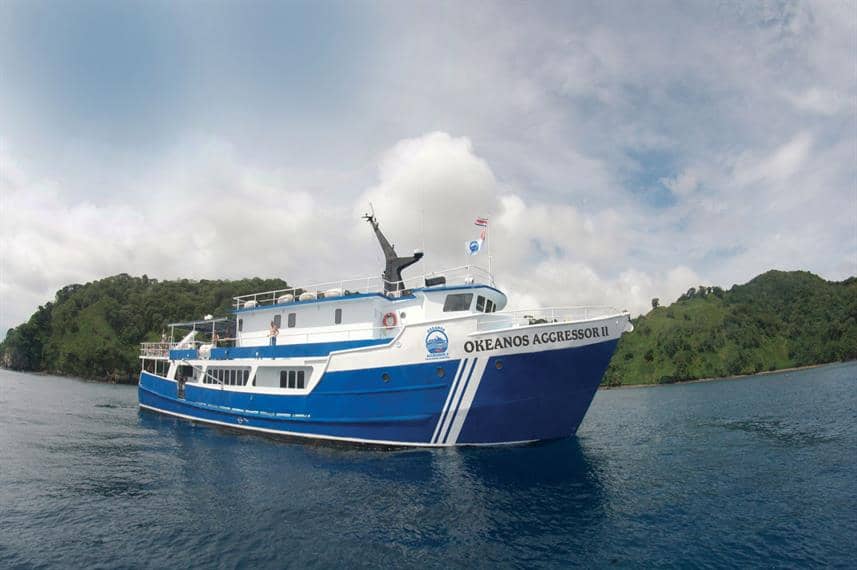 Destination: Cocos Island
Dive Highlights: Venture to Cocos Island, an oasis of marine life, where you can spot hammerhead sharks, schools of hammerheads, and large pelagic species.
Why Choose: If you're in search of thrilling encounters with sharks and other big fish, the Okeanos Aggressor is your perfect dive platform.
Cocos Island, often referred to as "Shark Island," is a haven for shark enthusiasts. The Aggressor Okeanos Aggressor liveaboard is your gateway to thrilling encounters with these apex predators and other large pelagic species.
Cocos Island is located in the Pacific Ocean, and its remote location has made it a gathering point for numerous shark species, including the iconic hammerhead sharks. Diving here provides you with the opportunity to witness not just one or two hammerheads, but entire schools of them, creating a breathtaking spectacle.
The Okeanos Aggressor is designed for divers who seek adventure and adrenaline. This liveaboard offers a unique experience for those who wish to be surrounded by majestic creatures of the deep. The crew is experienced in shark diving and ensures that your encounters are not only thrilling but also safe.
Accommodations on the Okeanos Aggressor are comfortable and well-appointed, ensuring that you have a pleasant stay throughout your adventure. The dining experience is top-notch, with meals prepared to satisfy your post-dive hunger.
If you're in search of thrilling encounters with sharks and other big fish, the Okeanos Aggressor is your perfect dive platform. The adrenaline rush of being surrounded by these magnificent creatures is unparalleled.
Why These Liveaboards Are Outstanding
Aggressor Liveaboards are renowned for their excellence in liveaboard diving. These five options, in particular, stand out for several reasons. They offer remarkable dive experiences, luxurious accommodations, and highly skilled crews that ensure your safety and enjoyment throughout your journey. Whether you're a novice or an experienced diver, these liveaboards have something special to offer.
The Aggressor experience is not limited to the time spent in the water. It encompasses the entire journey, from the moment you step on board to the time you bid farewell. The liveaboards are designed to make your experience comfortable and enjoyable, both above and below the surface.
Aggressor Liveaboards: An Unforgettable Experience
No matter which Aggressor Liveaboard you choose, you're guaranteed an unforgettable diving experience. These liveaboards are known for their exceptional service, attention to detail, and commitment to making your journey safe and enjoyable. If you've ever dreamed of exploring the world's most incredible underwater ecosystems, 2024 is the year to make it happen.
Conclusion
In 2024, set your sights on an incredible underwater adventure with Aggressor Liveaboards. From the vibrant coral reefs of the Caribbean to the unique marine life of the Galapagos Islands, these liveaboards offer experiences that every diver dreams of. Don't miss the opportunity to explore the underwater wonders of our planet while enjoying top-notch accommodations and service. So, what are you waiting for? Book your Aggressor Liveaboard adventure now and get ready to make 2024 a year to remember!
With this expansion, the article now offers a comprehensive view of each Aggressor Liveaboard, ensuring readers have a thorough understanding of these incredible diving opportunities.
FAQs
1. What is a Liveaboard?
A liveaboard is a type of diving vacation where you stay on a specially designed boat. It allows you to access remote dive sites and spend more time in the water.
2. Are Aggressor Liveaboards suitable for beginner divers?
3. What is the best time to book an Aggressor Liveaboard in 2024?
It's recommended to book your Aggressor Liveaboard well in advance to secure your spot, especially for popular destinations.
4. Can I bring non-diving companions on an Aggressor Liveaboard?
Yes, many Aggressor Liveaboards welcome non-diving companions. They can enjoy activities like snorkeling, sunbathing, and exploring the local culture.
5. How can I book a trip on an Aggressor Liveaboard?
Booking can be done through Aggressor Liveaboards' official website or through authorized travel agents. Be sure to book early to get your preferred dates.
I hope you find this article informative. If you have any further questions or need any adjustments, please feel free to let me know!